Navigating the Storm: A Guide to Storm Preparedness & Recovery with SERVPRO of Freeport
8/14/2023 (Permalink)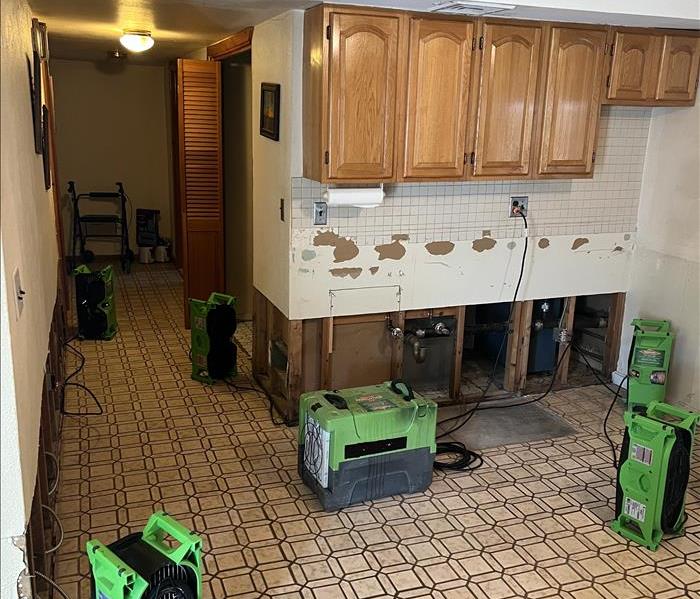 The unpredictability of storms poses a real challenge to homeowners and businesses alike in Freeport. Equipping yourself with the right knowledge on storm safety and having a game plan for recovery can make a world of difference. Here's our comprehensive guide to ensuring you're well-prepared before, during, and after the storm.
Recognizing the Storm Threats
Each storm presents its own dangers. While heavy rain might lead to unexpected flooding, strong winds can damage buildings, and lightning can result in fires. Being aware of the types of storms Freeport might face will help you develop an effective plan tailored to our local challenges.
Getting Ready for the Storm
1. Protect Your Property:
The safety of your property often begins with preventive measures. Schedule regular check-ups of your home or office space to spot and fix any weaknesses. A sturdy roof and clear gutters are essential. Tie down or store away any loose items outside that could fly around during a storm. If possible, get storm shutters or board up windows with plywood.
2. Draft an Emergency Plan:
Formulate a plan detailing evacuation paths, rendezvous points for separated family or staff, and a go-to list of emergency numbers. Don't forget to factor in pets and any unique needs of your household or team.
3. Pack an Emergency Kit:
Equip yourself with a kit containing crucial items such as water, canned food, torches, spare batteries, a first-aid set, required medicines, important papers, and a radio that doesn't rely solely on mains electricity.
During the Storm
1. Stay Updated:
Keep an eye on the latest weather news and always heed the guidance of Freeport's local officials. If there's an evacuation order, follow it immediately. Your well-being comes first.
2. Secure Your Premises:
Before a storm approaches, do a final check. Move outdoor furniture indoors, turn off utilities if directed, and ensure all entry points are locked.
Post-Storm Actions
1. Check for Damage:
When it's safe to do so, cautiously inspect your property for any harm. Document any damage with photographs and detailed notes for insurance claims.
2. Cleanup and Recovery:
Cleaning up after a storm isn't always straightforward. It often necessitates expert help. That's where SERVPRO of Freeport steps in. Our specialized teams are equipped to manage the aftermath of storms, ensuring your property is restored to its original state swiftly and professionally.
Storms might be daunting, but with the right preparations and a reliable partner like SERVPRO of Freeport by your side, you can face them head-on. If the storm leaves you needing help with cleanup or restoration, don't hesitate to contact us at 516-774-2200. Your safety and speedy recovery are what drive us.