Fall Edition: Home Maintenance Checklist For Your Home
10/1/2020 (Permalink)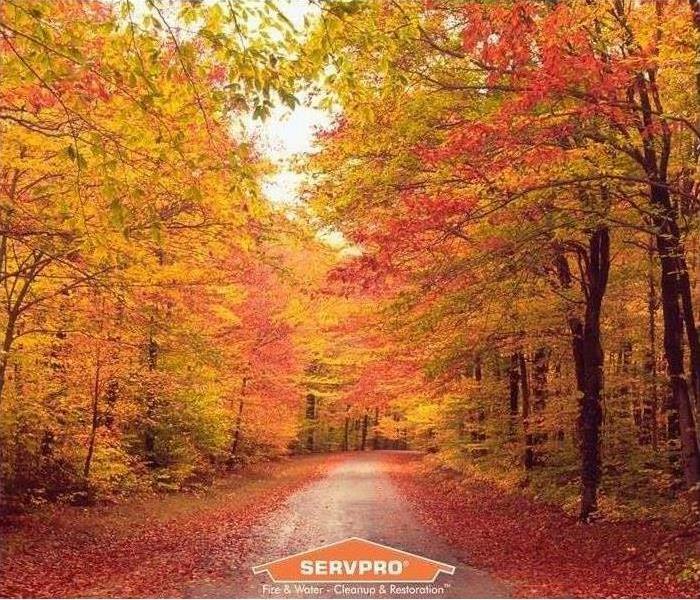 Fall brings in pumpkin spice, fallen leaves, and PLENTY to have done around the house for maintenance. Are you prepared for the colder months?
Hello October! When Autumn rolls around, it becomes the perfect time to tidy up and prepare your home for the chilly months to come. It's an ideal time to get work done before shorter days and ice prevent you from taking proactive measures. On the list below, we have gathered information on what you can do to make sure your home is in great shape all season round.
Take care of your trees
Make rounds throughout your front and backyard to make sure that your trees and bushes are in good condition and under control. Taking care to prune any precarious branches now will prevent any falling limbs once winter storms come along. Winter storms have been known to take down many tree limbs in the area, so it's smart to tidy up before it becomes a headache later.
Did you know that SERVPRO of Southern Staten Island can take care of trees or other debris that fall on your property? We're experienced in removing dead trees, whether they fall on your house or on your yard.
Rake your leaves
This tip seems intuitive, but many people love the look of fallen leaves on their yards. What they don't realize is that leaves left throughout the season on your lawn, can prevent spring growth. Whether you use a leaf blower or a rake, just be sure to gather all leaves.
Pro-Tip: Be sure to wear gloves to make sure you don't damage your hands.
Clean out your gutter
During the later part of Fall (like November) be sure to clear out your gutters and downspouts. The reason? Clogged gutters can cause water to pool, which can damage your roof or siding. By cleaning it out, you're making sure that your outdoor drainage system is in peak condition before winter comes along.
Add Weatherstripping!
Applied to the frames of any door or window, weatherstripping is an easy way to make sure your home is warm and your heating bills are cut. Also, consider adding a door sweeps to your doors leading to the outside (front, back, garage, etc) to make sure that a draft doesn't follow you when you enter or exit.
Still feel like your energy bills are high? SERVPRO of Southern Staten Island has expert technicians who are certified to check your Heating units for optimal use.
Take down the window A/C units.
Summer is now behind us, so be sure to box away all of your air conditioning units. Can't remove them? Then cover the entire exterior with an insulating wrap (Easily found at any hardware store) This will prevent cold air from coming into your home.
Clean Your Dryer Vents
The lint that collects in your dryer is actually dangerous. Besides making your dryer less efficient, it can actually start a fire. With cool, dry weather comes an increase in static electricity. The result? That lint collecting in your dryer can catch on fire. Reduce the risk by hiring a SERVPRO professional to clean out the vents for you.
Schedule a chimney and heating system check-up
Getting ready to turn up the heat? First, make sure that your chimney, furnace, and boiler are cleaned, maintained, and in working order. It's a crucial safety measure that should not be taken lightly.
Pro-tip: Invest in a chimney cap: they prevent animals like racoons from entering your home.
Deep clean your kitchen
With Thanksgiving around the bend, it's a great time to give your kitchen a deep clean. This makes sure that your space is not only efficient, but looking good too! Some areas to look out for:
Clean the oven
Vacuum the refrigerator coils
Clean light fixtures
Wash out your garbage and recycling bins
Clean small appliances
Degrease and wipe down the range hood and filter
Check Your Smoke Detector
The cooler months are when fires are most likely to occur, with heating systems and fireplaces being used. Take special care to test smoke AND carbon monoxide detectors. Also, make sure you have a current fire extinguisher (i.e. not expired!) Use precaution, by checking on these safety devices, you are proactively taking care of your entire home!
If there is ever IS a fire in your home, be sure to contact SERVPRO of Southern Staten Island to take care of any damage. As always, we encourage our community to be safe and take all caution.
Prepare for Winter: Get supplies!
The New York area is prone to some harsh winter. Be sure to prepare well in advance to make sure that your home is stocked up for whatever weather comes your way! Here are some important items to make sure you have on deck:
Snow Shovels, Ice Scrapers
Ice melt
Emergency Kits (One for each car, one for your home)
That's our list! Fall is, arguably, the most beautiful season for us in the Northeast. Leaves falling, crisp air all around. In between pumpkin patches, apple picking, and drinking spiced lattes, make sure that you give your home some TLC.
Let us know which of our 10 Maintenance Tips you will try out first by tagging us on social media.